has been added to your cart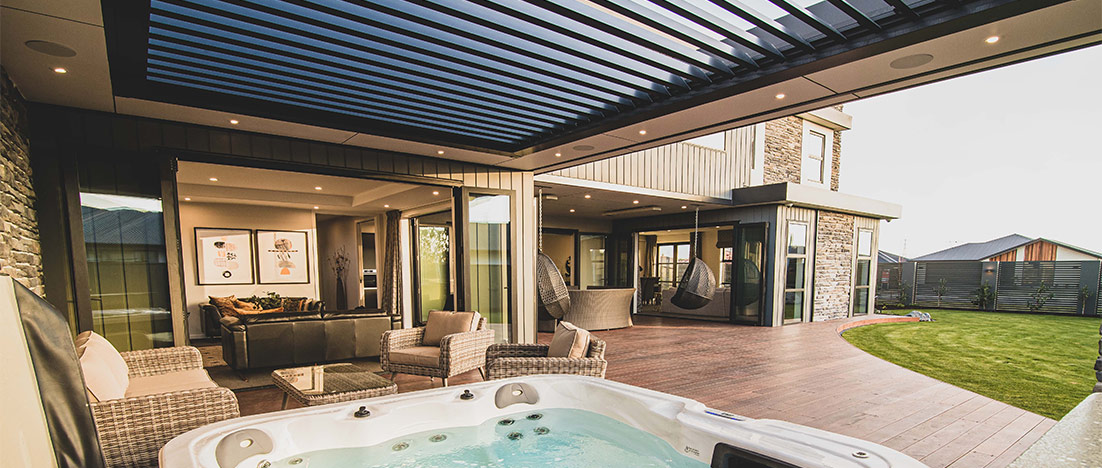 Stratco's Allure Patio Featured In Award Winning North Canterbury Home
Posted in: Friday 30th August 2019
Mark and Kate Tomkies of Tomkies Construction brought meticulous planning and attention to detail to every aspect when building their own dream home. The result is a stunning, award-winning residence featured by Abode Magazine.
When entering Mark and Kate Tomkies North Canterbury home from the street you encounter a large automatic gate that retracts in a curved arc, exposing a driveway laden with ground polished concrete and moonlight highlights. The decking placed at the entranceway to the home is arranged in a sunrise pattern, giving a unique design element to the kwila walkway. The level of detail and workmanship that is displayed even in the minor areas of the home really reflect the thought and passion given to this property by the owners. Each step of the construction has clearly been designed with meticulous precision to create a stunning development that can be appreciated by all. With the help of local trade companies and trusted partners such as Stratco Mark and Kate were able to construct their ideal home.

Mark has 17 years' building experience, and over their six years in business, Tomkies Construction has built a reputation not only for high-quality workmanship but for bringing the personal touch to work. "We built our neighbours' house, and like many of our clients, they have become friends of ours. I don't like our clients to be stressed by the process, building a house should be enjoyable," says Mark. He brought that same attitude into his own personal project, utilising trusted local trade businesses to help alleviate any issues he was not sure of.
The final product proudly adorns many top spec features you'd expect to find incorporated into the home of experienced developers like Mark and Kate. Low – pitch roofing, schist cladding and oak beam flooring all help tie this house together. Central to the concept of this home is the openness of the living areas, which integrates an effortless flow to the outdoor living, facilitated by four sets of lay-back bifold doors which are held back by custom-made pop-up doorstops designed by Mark and made by Tomkies. Mark and his team completed the expanses of softly curving kwila decking, which offsets the angles of the architecture. The deck includes two main areas; a central dining space that hosts a large table accompanied with hanging egg chair, a second spa and casual seating zone tucked in next to the schist feature wall and featuring a polished concrete bar leaner.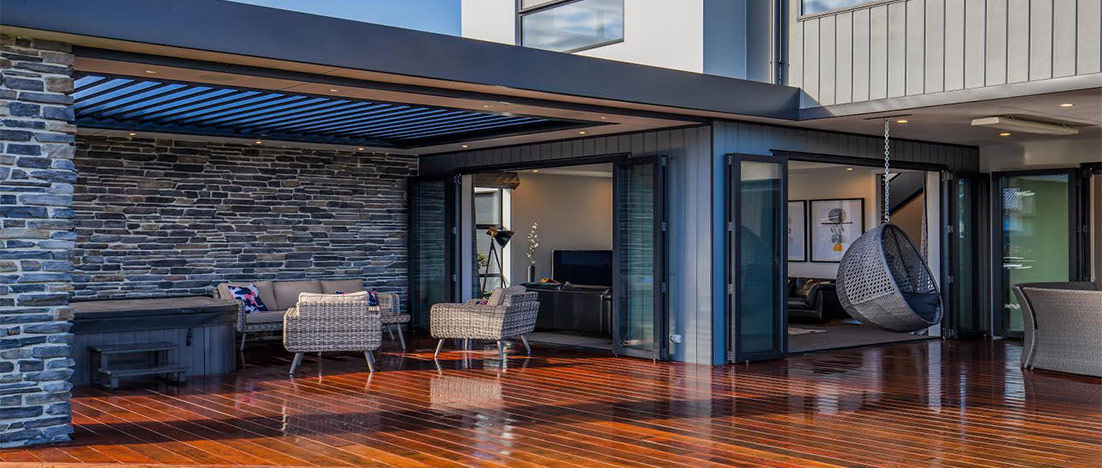 This fabulous space, perfect for a casual get-together, can be enjoyed in all weather conditions, thanks to the Stratco Allure Louvre patio system that was manufactured to fit within the roof and wall structure over the outdoor entertainment area. Designed with smooth angular lines and solid posts and beams, the patio provides an impressive architectural appeal. The Allure Louvre patio combines the best of sleek modern design with a versatile outdoor living space. Giving a seamless look to the louvres, the motor system is completely hidden from view and operated via remote control. The Allure louvre system includes an Italian designed rain sensor, which will close the louvres automatically if there's a change of weather. Dave Allingham of Stratco says, "Stratco enjoys a positive relationship with Tomkies Construction to achieve the very best design outcome for homeowners' outdoor entertaining areas." Kate and Mark say the outdoor areas are a highlight of living in their new home and a superb fort, built for their son by Mark, takes pride of place in the garden.
This beautiful home delivers the perfect space to entertain friends and family, while enjoying the sun and fresh air. It's no surprise Mark and Kate were recently rewarded with the Regional Lifestyle Award for Outdoor Living at the 2019 Registered Master Builders House of the Year Awards. Alongside this honour, their home has also been awarded a Gold Award and the Regional Category Award plus the coveted Gold Reserve Status, putting them in the top 100 properties nationwide. Mark sets exceptionally high standards for himself, and his team, on all of their projects, and in their own home they have an excellent example of these qualities, showcasing that attention to detail to perfection. The couple now has a fabulous new home to enjoy and the accolades from this years' awards are the icing on the cake, giving Mark, Kate and the Tomkies team plenty of reasons to celebrate.
Contact us for more inofrmation on how Stratco can help you design and build your own Stratco patio.

(Credit: Abode Magazine)